Final Conference
The final conference of the GRAPHSENS project, entitled "Graphene-based components and flexible electronic/sensing devices", was held at the University of Novi Sad (UNS), Serbia on Friday, 03 Mar 2017. The conference was attended by the key personnel of the project partners and invited speakers involved in graphene research in Serbia and the EU.
The final conference of the project focused on the emerging technologies of flexible electronic devices for sensing applications. The scientific presentations, outlining the main results obtained during the course of the GRAPHSENS project, were given by the researches from L-NESS and UNS. The conference also featured invited speakers from the Faculty of Physical Chemistry, Institute of Physics, and Institute of Chemistry, Technology and Metallurgy, all at the University of Belgrade, Serbia, Biosense Institute, Novi Sad, Serbia, and Slovak Academy of Sciences, Bratislava, Slovakia. The discussion was focused on the future goals and possible collaborations between the EU and Serbian research institutions active in the field of graphene research.
The final conference was deemed to be successful. It established personal contacts and promoted expertise of the involved teams and also facilitated knowledge transfer at the national, regional and international level.
The final conference is also featured on the website of CEI.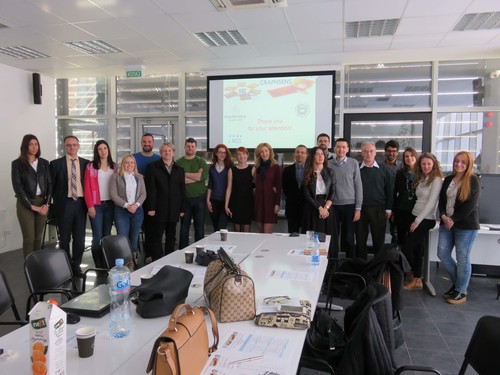 The participants of the final conference of the GRAPHSENS project funded by CEI.
Copyright © 2010 L-NESS Como